Need for KENT Auto Sanitiser
Frequent sanitization of hand has become critical to be safe and healthy. As a preventive measure to tackle this situation, KENT has come up with its Auto Sanitizer range of products.
KENT Auto Sanitiser, comes with a sensor-based technology which makes it operationally fully automatic and touch-less. It is particularly useful for the areas where there is a gathering of visitors/employees.
HOW IT WORKS: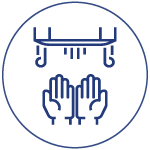 Place your hand below the bottom of the dispenser at the middle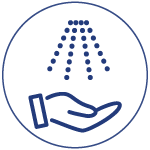 Required (adjustable) quantity of the sanitiser gets sprayed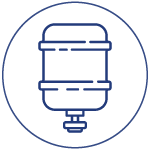 Dispenser becomes ready for the next person quickly within 3 seconds
PRODUCT DESCRIPTION: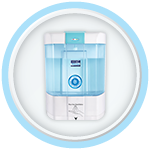 KENT Auto Sanitiser:
In the current scenario,maintaining your hand's hygiene has become essential. Now, sanitise your hands with touchless KENT's Auto Sanitiser-6 to reduce your chances of getting infected in public spaces. Ideal for factories, offices, hospitals, malls, railways, shops, and homes.
Touchless Automatic Operation:
No use of hands while sanitizing means safer and more hygienic disinfection of hands. You simply need to take your hands below the appliance at the middle. It sprays the correct amount of sanitizer every time and becomes ready for the next person in 3 seconds.
Spray Mist Volume is Adjustable:
While installing the appliance, you can adjust the volume of spray according to your usage. Adjusting the sanitizer to low or high output is in your hands now.
Transparent, Detachable, and Lockable Tank:
It has a transparent tank, so you can keep a check on the sanitizer level without opening it frequently. The tank is detachable, which ensures easy cleaning and refilling, while its lockable feature prevents any theft or pilferage.
Wall Mountable:
This fully automatic sanitizer is wall mountable that can work both inside and outside. Even direct sunlight cannot harm your product in any way.
LED Light for Displaying Dispensing:
Once this appliance detects hands, it will spray the required amount of sanitizer and throws light for illuminating hands to display dispensing.
PRODUCT TECHNICAL SPECIFICATIONS:
| | |
| --- | --- |
| Product | KENT Auto Sanitiser - 6 |
| Product Code | 112012 |
| Product Generic Name | Hand Sanitiser |
| Product Colour | White |
| Net Quantity | 1 U |
| Net Weight | 5.50 kg |
| Product Dimensions (mm) | 390 (L) × 285 (W) × 440 (H) |
| Total Power Consumption | 40 W |
PACKAGE LIST:
KENT Auto Sanitiser

Central Drill Sticker

Plastic Inserts and Installation Screws

Nozzle

Syringe
WARRANTY:
1 Year Manufacturer Warranty.
NOTE:
It does not include a hand sanitizer solution.